I must say that when I first heard about and saw images of Lime Crime makeup, I was completely enthralled. I have always been interested in alternative beauty. Classic beauty is great, too, but there is something to be said for really making a look "yours." I love that Lime Crime offers unconventional colors. Even better is that the stuff is true quality.
I don't have all of the Lime Crime lipsticks, but here is most of my collection. From left to right, the front row includes D'Lilac, Great Pink Planet, Countessa Fluorescent, Centrifuchsia, Retrofuturist, Glamour 101, and Styletto.
Click on image to view full size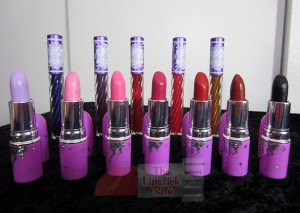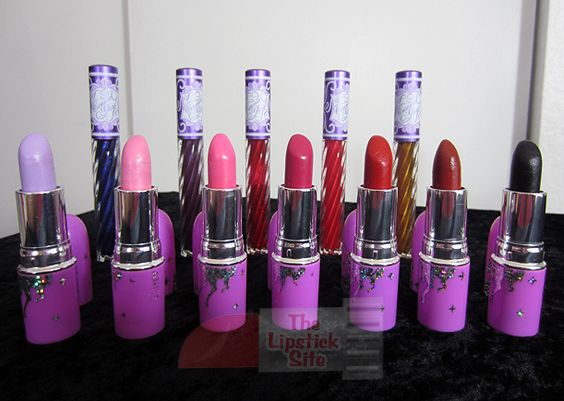 I have pretty fair skin; not the lightest but definitely fair-ish. And on me, personally, the lighter colors aren't very flattering. I am also in my mid-thirties, so it's more difficult to get away with some of the styles I rocked in my teens and twenties. At one point I had a light blue lipstick color from Lime Crime that I ended up giving to my friend; it looked really bad on me. But I have seen the lighter shades look fantastic on younger ladies and on ladies with darker skin tone.
I absolutely *love* Centrifuchsia and Retrofuturist. Retrofuturist is one of the most brilliant reds I have ever worn; it really "pops." Centrifuscia is a unique blend of pigment that's not only flattering for my skin tone, but really fun and sexy, too. And Styletto is bar-none *the* best black I've ever worn.
All of the lipsticks are creamy-smooth in texture and smell delicious.
In the background of the above photo is the Carousel Lip Gloss collection which came out last winter. LOVE them. I was afraid that the glosses would be runny and end up just "tinting" the lips rather than giving them rich color, but that's not the case. As you can see in the swatches below, the colors are rich and sparkly. From left to right, you will see Loop-De-Loop, Kaleidoscope, Candy Apple, Cherry On Top, and Golden Ticket.
Click on image to view full size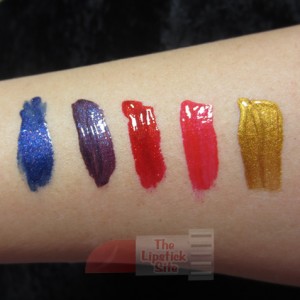 The brushes for the gloss allow for much precision when applying. They are very small and fine-tipped, and have *just* enough flexibility. My favorite is Candy Apple, which is perfect for the holidays or any evenings when "drama" is going to be a key word.
Lime Crime recently came out with some fabulous new colors that I am dying to try, such as Poisonberry ("a deliciously dangerous berry-purple with a violet glow") and Serpentina ("a seductive deep emerald-green with a snake-like sheen"). I will let you know how it goes once I get them! Of course, Lime Crime offers more than just lipstick, so check out their site for other types of makeup!
Thanks for visiting!
xox,
The Lipstick Lady