Dior is another luxury lipstick brand of which I am quite fond. Most of my Dior lipstick experience is with the Diorific collection. While the Diorific tubes do not fit in my lipstick organizer, which is generally an important factor to me, I appreciate the aesthetic quality of these unique cases so much that it doesn't really bother me as much as it could.
In the foreground we have Bellissima from the Dior Addict Extreme collection, and then from left to right up top we have Blackberry Flash, Roulette Red, and Rose Diabolo from the Diorific collection.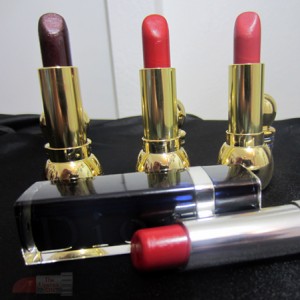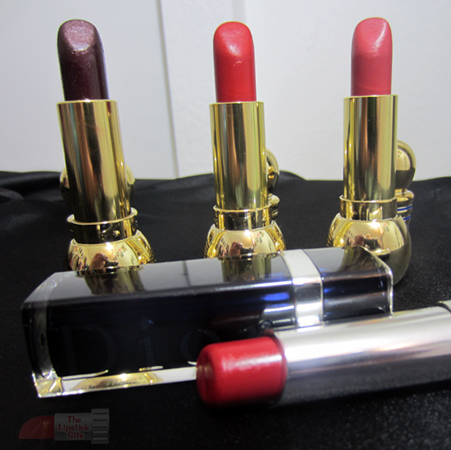 The texture of the Diorific lipsticks are not as creamy as some of the other luxury lipsticks I've previously written about, such as Yves St. Laurent, Guerlain, and Givenchy. I do like creamy lipsticks, mostly because they feel so decadent gliding on. The plus side of not being so creamy, however, is the fact that the entire lipstick experience isn't as messy, and the color stays put on the lips more easily.
The Dior Addict Extreme lipstick has a very different texture than the Diorific lipsticks. It isn't creamy, per se, but it is much more silky. It really glides on the lips like silk. The concentration of pigment doesn't seem as intense in the DAE; it is almost somewhere between a lip gloss and a lipstick. Closer to the lipstick end of things, but still somewhat gloss-like. I would say that my preference is for the Diorific collection, from my experience so far.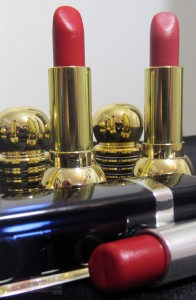 Now for the colors. It seems that Dior has a really lovely, unique and fairly wide range of colors, and I definitely want more. As you can see in the swatches below, Blackberry Flash is supremely dark, and I don't see myself wearing this shade too often. It looks almost black on the lips, which would be good for theatrical and moody nights, combined with seriously limited eye makeup.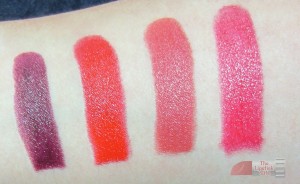 I am a very big fan of Roulette Red. It's a red, for sure; no doubt about that. But it isn't as shocking or daring as some of the other reds I have experienced. There is something just a tad "played down" about it, which makes me feel like I am attracting attention without demanding it, if that makes sense. I dare say it is one of my top favorite reds out there.
And I am madly in love with Rose Diabolo. I needed a color to love that isn't too red and isn't too pink, isn't too dark isn't to light, isn't too plain but isn't too bright. Got it. I just recently received this color, and I just know am going to be wearing it really often. And then I will buy more. Very pretty with my skin tone.
Bellissima, from the DAE collection, is a nice color that would be safe to wear to just about any type of event, from Sunday church, if that's your thing, to a family get-together, to a night out with the girls, to a night out on a date. As I mentioned earlier, the pigment isn't super concentrated, so this lipstick will give you some color that isn't too bold, while also providing moisture and softness in its silky-glossy way.
Thanks for stopping by and I hope you enjoyed this review!
xox,
The Lipstick Lady