Yves St. Laurent is definitely a luxury brand, and when it comes to their ROUGE VOLUPTÉ lipstick, there is no texture quite like it. This lipstick is definitely the creamiest, and it feels absolutely decadent gliding on. The colors are also very rich in pigment, making the overall effect of a Yves St. Laurent pout pretty much devastating.
From left to right, in the photo below, we have Fetish Pink, Indian Orange (from the Rouge Pur line), Red Muse, Red Taboo, Forbidden Burgundy, and Exquisite Plum.
Click on image to view full size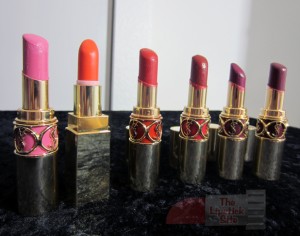 My personal favorites are the two reds (one is a bright red, the other a deeper red) and Forbidden Burgundy.
The downside to such a creamy, almost liquid-feeling luxury lipstick is that it can be rather messy. As far as appearance goes, I tend to favor the way this lipstick looks un-blotted and un-powdered. But if you are concerned about lipstick prints rubbing off on everything your lips touch, it's best to at least blot a couple times before coming into contact with pretty much anything.
Thanks for reading!
xox,
The Lipstick Lady