First I'd like to say that I *am* a fan of Obsessive Compulsive Cosmetics Lip Tar. But in order to like this stuff, you have to be the type of make-up person who likes to play. It isn't the most practical lip color choice, because you have to have some kind of application set-up or plan.
The tubes I have do not come with an attached applicator, so I end up squeezing a bit of the liquid formula onto a piece of plastic or a piece of paper, and then I dip a lipstick brush into the formula in order to apply. The formula is not thick or super watery, but somewhere in between, and it gradually dries on the lips.
From left to right: Feather, NSFW, Rx, Belladonna, Hoochie, Strumpet, Demure, and Pretty Boy.
Click on images to view larger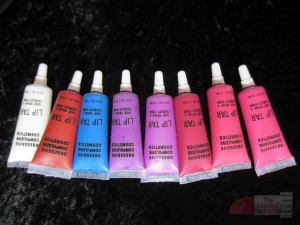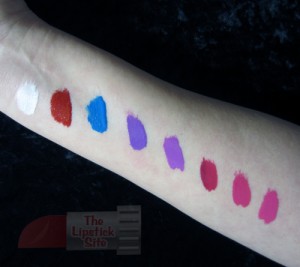 My personal favorite is Strumpet; it's a really pretty magenta color.
Some of the best things about OCC Lip Tar:
1. How well it stays on once it dries. It's not going to rub off on things (coffee cup, cigarette, boyfriend) like some other lip colors would.
2. It looks great with some gloss.
3. There is a super wide variety of fun and funky colors to choose from.
4. All OCC products are completely vegan.
5. It's great fun to mix and blend.
Thanks for stopping by, and happy lip-painting!
xox,
The Lipstick Lady