Category Archives:
Uncategorized
So Birchbox is this place that sells high-end beauty products online, and they have an option where you can get a box of monthly samples for about ten bucks per month. I first read about them in InStyle magazine. Apparently, there are several different companies that offer monthly samples for a price, and most of the samples are high-end products that a consumer would want to test out before investing in.
Anyway, I was on a waiting list for Birchbox's monthly samples, and was so excited when it was my turn to receive. I went into the experience with a very positive attitude, especially being that they have an affiliate program, and I am an online webmaster who loves affiliate programs. I wanted to be able to recommend them, and also discover awesome new products to review and to enhance my personal life with.
I have received about eight packages so far, and each one has been pretty disappointing. At first, I didn't even want to admit it. I was happy to be turned on to a perfume I liked, at least. I kept an open mind. But I am at the point where I am not only willing to admit the truth of the matter, but I'd like to save others the waste of time, money, and looking forward to something, if possible.
Birchbox sends mostly crap, there is no seal on products, and they often look to be previously used. If you are over the age of 30, they will send you mostly skin-care products, rather than makeup. And if you know anything about skin-care, you know your skin needs time to adapt to a product before you can tell weather or not it works well for your skin type. The little samples of cream don't allow for appropriate testing time, and I really don't need 50 little samples of *cream,* anyway.
My ickiest experience with Birchbox so far was the chocolate. Sometimes they send edible treats, which is weird for a beauty sample place, anyway. But once I opened a chocolate they sent, and there were HUMAN FINGERPRINTS on it. Like, big man-prints, fossilized into the chocolate. I was just like, "wow."
I have also thrown out an unsealed lip gloss with scratches on the case which also smelled funny and appeared to have some fluid missing. It was completely unlabelled, and really sketchy-looking. Can you imagine me, The Lipstick Lady, discarding a practically free lip gloss? It was that unappealing. Practically none of their stuff is sealed, and I truly imagine that it has all been previously sampled.
And today I just got a new package of crap, and the one thing I might have liked is an unsealed blush/highlighter which has already been rubbed. I mean you can literally see that it's been used already.
Birchbox also sends you pieces of plastic and paper and say, "Hey you can use this as an envelope, or a makeup bag, or a hair band!" SERIOUSLY. Every month there is *at least* one plastic baggie, paper envelope or elastic loop type thing that apparently qualifies as a legitimate "beauty product sample." Again, "wow."
I am really disappointed as I desperately wanted to like them. 10 dollars a month is nothing, but I'd rather NOT get some company's left-over garbage. And that's what I feel like they are giving out to their sample box customers.
I would check out other companies who offer a similar service; my faith in the possibility of enjoying this sort of monthly sample box opportunity hasn't yet been completely destroyed by Birchbox. But I will not go into the adventure with high hopes or a positive outlook anymore. Because Birchbox took my sample box virginity, and it felt pretty lame.
Edit to add: Unfortunately I do not have pics of the chocolate or the lip gloss, or a bunch of the other items I immediately threw out like pieces of paper and whatnot. Must document these things better. But here is an image of the stuff I saved until I just threw it away a minute ago.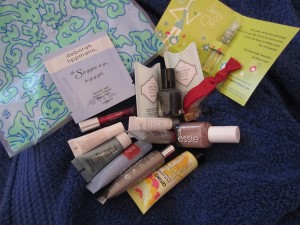 As you can see, lots of creams, most of which were unsealed. Two unattractive (in my opinion) nail colors, like they purposely chose the least popular colors to send. That little red ribbon is an elastic hair band. The plastic ziplock bag is a "makeup bag." They'd also send lots of little perfumes. Whatev, I would rather smell it on the magazine pages anyway. The lip stain was also unsealed, as was, like almost everything. So that's that.