I adore Besame lipstick, as you can see from my previous Besame lipstick review. I hope to write many more reviews in the future, because that would mean that I somehow got my makeup-greedy little hands on more of their products. On the official Besame website, there are currently two special "sets" for sale. One is the 1920s Deco Collection, which this entry will be a review of, and the other is the Kenley Collins Scarf and Lipstick Set, which I plan to review in the near future.
Below is the little advertisement flier for the 1920s Deco set. Their marketing is just brilliant. How could this not appeal to every woman in the world interested in vintage and retro glamor?
The 1920s Deco Collection includes the Besame "Noir Red Lipstick" and the Besame "Black Liquorice Lip Glaze." The packaging is gorgeous, as you can see in the photos below.
click images to view larger
The boxes that the lipstick and lip gloss came in: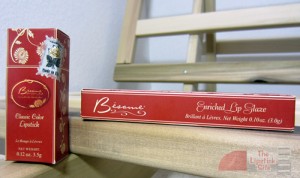 The red velvet lipstick pouch that all my Besame lipsticks so far have been packaged in: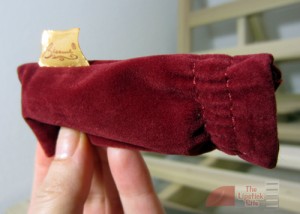 Decorative tubes: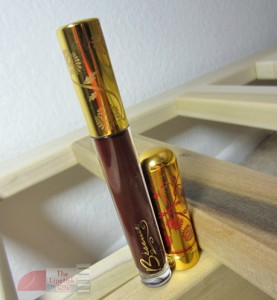 Swatches: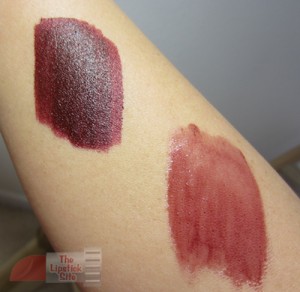 The lipstick color seems fairly darker on my lips than it looks in the Besame flier I posted above. It still looks good, in my opinion, but I'd wear it only on those days I feel I want to look kind of dramatic in a moody sort of way. I am now in my 30s, and I can imagine flipping head over heels for this lipstick set when I was a goth girl in my late teens and early twenties. Still, I find the color wearable, and even quite attractive, for certain days and events.
I really like the liquorice fragrance of the gloss. If you like black liquorice, you might love the way this gloss smells, and how it tastes on your lips. I think it looks good on top of the lipstick it comes with, but also can stand by itself on an otherwise naked mouth.
Besame lipstick and gloss are always good quality, and I would recommend this set to anyone who likes really dark red lipstick and a vintage vibe.
In appreciation of your viewer-ship,
The Lipstick Lady