I *love* Besame lipstick! It's this totally adorable vintage-inspired lipstick, in really romantic little tubes. It's smaller than your typical lipstick by a bit, which makes it seem even more special and cute. The woman who founded Besame, Gabriela Hernandez, was educated in the fine arts, and she has definitely brought a uniquely creative addition to the word of cosmetics.
Aside from adoring the cases and packaging, I also like lipstick tips, which angle from two sides towards a point up top. I think that the tip-shape is part of what is vintage-inspired. The texture of the lipstick is really nice; it is not creamy, but not overly dry, and it stays nicely on the lips for a long time.
From left to right: Merlot, Cherry Red, Besame Red, and Red Hot Red:
The latter two colors are very similar, which is a bit annoying to me. I mean, why make two colors that are just a teensy pinch different from one another? I get most of my lipsticks online, and I just kind of expect each color to be more different from the next, within a given brand. But I guess there are some people who are like, "Oh this is almost the perfect color; if only it was a pinch warmer." So, whatev.
This is a little chart that I have received with my Besame lipsticks: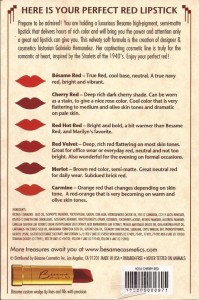 And also, I used the Besame Red lipstick to write the URL for my Pinterest boards on this piece of paper:
Overall, I super-dooper love this brand, and I hope that they come out with many more lipstick colors and products in general. It is quality lipstick, and it is just so freaking unique and cute.
Thanks for stopping by!
xox,
The Lipstick Lady