I love Givenchy lipstick, but I do not like the cases. Okay that's my review, thanks for reading.
Haha, no. But that does pretty much sum it up. The lipstick is amazing. It is a really silky texture that glides on beautifully. The colors are rich in pigment, and I find the range of colors offered very aesthetically pleasing. Givenchy lipstick is high-quality, luxury lipstick.
But the cases annoy me. They hardly fit in my lipstick organizers, although almost every other lipstick brand does. I guess they thought it was a cute idea to have the little pully string, but I find it awkward. It's unconventional in a way that isn't at all practical, as far as I am concerned.
From left to right: Elegant Rouge, Illicit Raspberry, Rouge Interdit, and Rouge Cancan.
Click on images to view larger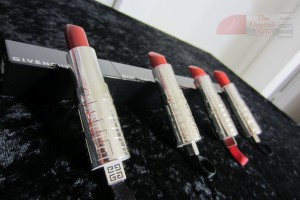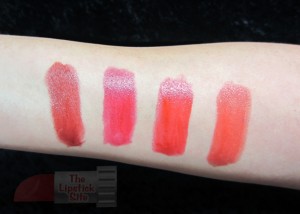 Illicit Raspberry and Rouge Interdit are two of my all-time favorite lipstick colors. The former is a delicious berry shade, and the latter is a bright hot red. I would carry them with me a lot more often if I didn't totally dislike the cumbersome cases, that for whatever reason, Givenchy thinks are better than more conventional cases. Remotely cute, but mostly impractical, Givenchy. Your gorgeous, quality lipsticks deserve better.
xox,
The Lipstick Lady